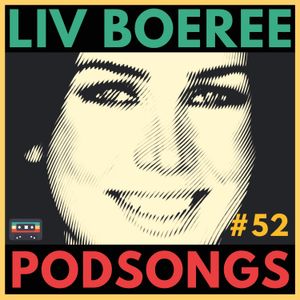 Liv Boeree is a science communicator, television presenter, and former professional poker player. She is a World Series of Poker and European Poker Tour champion and is the only female player in history to win a WSOP bracelet and EPT event. Born in Kent, Boeree earned a First Class Honours degree in Physics with Astrophysics at the University of Manchester. Boeree is a 3x winner of the Global Poker Index European Female Player of the year and currently sits at #5 on the female all-time live poker winnings list. 
Lyrics to the song that was inspired by the interview:  
THE MOLOCH TRAP 
VERSE 
G 
How on earth will we survive? 
Em 
Nature's worth more dead than alive 
C 
It's a race to cut down the trees 
D 
Before somebody else does 
BRIDGE 
   C                           D 
Where are our brains and imagination? 
 G                 D/F#        Em 
Smokestacks pumping out damnation 
                                           C 
There's no way to prevent this 
                 D 
Cos we have... 
CHORUS 
                     G 
Perverse incentives 
                     Em 
To sacrifice values 
                      C 
Be more competitive 
                        D 
Racing to the bottom 
How can we stop them? 
Without co-operation 
The tragedy of the commons 
Unnecessary sadness 
Multipolar madness 
Walking to the Moloch Trap 
How do we turn? 
How do we turn? 
And break the cycle 
Not fulfill 
The prediction 
Of human extinction 
VERSE 
Wars are good for the economy 
Pollution boosts our GDP 
Its nuclear weapons or risk destruction 
AIs now an arms race 
BRIDGE 
What's good for others, is good because 
It's long term good for all of us 
Where are the glad and wise? 
Instead, we have... 
CHORUS 
OUTRO 
Do you mourn for Maldek? 
Have fury at Lemuria? 
And the conflicts of Atlantis? 
Do you reminisce? 
Free will vs Freedom 
Within the law of karma 
The madness of this  
Moloch drama 
Are we gonna rise up? 
Are we going to stand? 
Or are we going to fall? 
Are we going to fail?