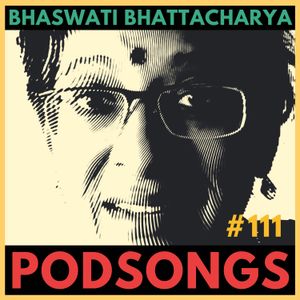 In the show where every conversation inspires a song, Jack Stafford interviews Dr Bhaswati Bhattacharya about her book 'Everyday Ayurveda: Daily Habits That Can Change Your Life in a Day'.   
Living between Manhattan and Kashi, Dr Bhaswati Bhattacharya is a licensed, board-certified physician, integrating 'Good Medicine' with Ayurveda for the past fifteen years. She is Clinical Assistant Professor of Family Medicine at Weill Cornell Medical College and a PhD researcher in Ayurveda at Banaras Hindu University. She is a 2014 senior Fulbright-Nehru Scholar, recipient of American Medical Association's Leadership Award and the first Indian to speak at Commencement Exercises at Harvard University. Her work is featured in the documentary, Healers: Journey into Ayurveda.    
Stream the song: https://ffm.to/therulesofayurveda  
THE RULES OF AYURVEDA (DINACHARYA) 
Waking up 
Before the sun 
You have your motions 
One-by-one 
Clean out the Kapha 
From your head 
Accumulated 
While in bed 
Clean the teeth 
And scrape the tongue 
Gargle with oil 
Then Abhyanga 
I get tired of the rules 
Nasal drops 
Salute the sun 
Wash your body 
When you're done 
Meditate 
And then hydrate 
Break your fast 
Very late 
Exercise 
December to May 
To only half 
Capacity 
Well I get tired of the rules 
But every time I go a little crazy 
Do something I know is really wrong 
I wake up in the morning feeling so bad 
That I go running... to the rules 
Not holding a sneeze 
Or stopping a yawn 
No activities 
At dusk or dawn 
Only breathing 
Through your nose 
Never eating 
When the right ones closed 
All 6 tastes 
In every meal 
The ratio 
For how you feel 
I get tired of the rules 
Avoiding incompatible 
Foods 
Mixing with fruit 
It precludes 
Then you lie 
On your left side 
While you digest 
What's inside 
Control the body 
Speech and mind 
Granting gifts 
And being kind 
I get tired of the rules   
But when I forget contraindications 
Don't change with the seasons or my situation 
Whenever I act mindlessly, I feel so bad 
I  go running to.... to the rules 
Speaking little 
Speaking good 
Speaking only 
When you should 
Not causing ill will 
Telling lies 
No dissension 
In others lives 
With a smile 
The first to greet 
Insults received 
Never repeat 
I get tired of the rules 
Living a life that's 
Filled with dharma 
Pursuing only 
Pleasure and kama 
Not believing 
All you see 
But nor suspect 
Conspiracy 
Perfect the skill 
Of adoring others 
Sharing profits 
As with brothers 
Not loving 
living alone 
Compassion for all 
Is always shown 
And having the long life 
And the health 
The reputation 
And the wealth 
Who's tired... of the rules? 
--- Send in a voice message: https://anchor.fm/podsongs/message