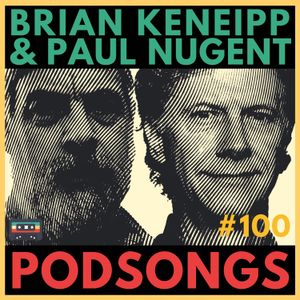 We made it to 100 episodes in just over a year. Well done to the whole team. Thanks to the guests, the musicians, the listeners, everyone! How should we celebrate our one-hundredth episode? - it has to be something special edition. And it is. Because I originally started Podsongs as a way to help publicise the Aetherius society, the spiritual organisation that I'm a member of. And about 12 of the last 100 guests were from the Aetherius Society. Two directors of the society in LA—Brian Keneipp and Paul Nugent—agreed to come on and give a special track by track commentary, with some extra metaphysical insights. 
The album is called 'Through slits in the chrysalis'—meaning the truths we get glimpses of, through cracks in our cocoons—and will be available on all platforms from 1st January. 
Tracks: 
1 The Prison of Materialism 
2 The Violet Flame 
3 The Mother Earth 
4 The Healer 
5 Most Caterpillars Don't Believe In Butterflies 
6 The Mighty Sun 
7 If The Bombs Go Off 
8 Pranayama 
9 Serve 
10 Hymn of the Blessings 
11 Bravery 
12 Don't Dwell on your Physical Shell 
13 The Absolute 
14 Blind and Groping in the Dark 
Moving forward.... In 2022 we'll be switching to an episode every fortnight which is what many other shows do, like Song Exploder the next best music podcast. Podsongs has become all-consuming... Because it's not just the production of the podcast that takes time - now I have to find musical guests who want to collaborate, finding a guest expert for them to interview, researching, recording, editing.... and then making the songs of course, which has been huge.... but it's also that now we give every song a special single release, with marketing, promotion, a music video... we're a proper record company. And two singles a month is still a lot. 
And even on top of that, another new idea for next year is that I want to release episodes with video as well - but we need something extra special for Podsongs - so not just talking heads, but as well as each episode inspiring a song, it will also inspire a painting..... I'm asking artists to video themselves creating a piece inspired by the conversation - so on youtube, you'll have a split-screen of the interview and the artist painting a picture in real-time. It's evolving into a gesamtkunstwerk - as we have music, dancers in the music videos. Maybe some literature in future, with story readings instead of interviews. I don't know how I can get architecture in there, but if you have an idea let me know.