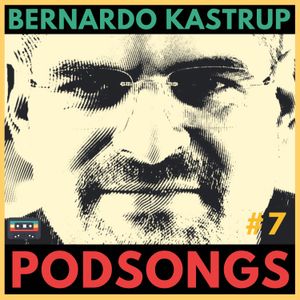 This is a reissue of Episode 7, while Jack recovers for the birth of his first child last week. Bernardo Kastrup's work has been leading the modern renaissance of metaphysical idealism, the notion that reality is essentially mental. He has a Ph.D. in philosophy (ontology, philosophy of mind) and another Ph.D. in computer engineering (reconfigurable computing, artificial intelligence). As a scientist, Bernardo has worked for the European Organization for Nuclear Research (CERN) and the Philips Research Laboratories (where the 'Casimir Effect' of Quantum Field Theory was discovered). Formulated in detail in many academic papers and books, his ideas have been featured on 'Scientific American,' the 'Institute of Art and Ideas,' the 'Blog of the American Philosophical Association' and 'Big Think,' among others. 
https://youtu.be/ZiFc11XHRQ4 
Stream the song: https://ffm.to/bernardo 
THE PRISON OF MATERIALISM 
VERSE  
Fm  
It's stitched into the sitcoms  
It's sewn into the news  
Bfm  
Twisted in the movies  
It underwrites your views 
It underwrites your views  
Fm  
Pumped in by the television  
Reinforced in school  
Bfm  
Seeps into your every hole,   
But your nobody's fool?  
BRIDGE  
Cm  
It permeates and advocates  
Corroborates we're separates  
Bfm  
Venerates-our-physical-traits-while-vindicating-violent-states  
Cm  
Perpetuates subordinates  
Implicates we're primates  
Culminates in selfish hate  
That enumerates & exterminates  
CHORUS  
Bfm  
Oh no, they're selling you a prison  
Cm  
Don't buy the lie of materialism  
VERSE  
It's been cunningly conceived   
And slyly concealed  
Dripped into your consciousness  
Now it has congealed  
You're just purely physical  
You're a piece of meat  
Who cares if I beat you  
Or emotionally mistreat you  
BRIDGE  
Soul starvation, strangulation  
Spiritual castration  
Secularize-sexualise-glamourise-with-vacant-lies  
Temptation and gratification  
Physical adoration  
Sedation of civilization  
Societal transmogrification  
CHORUS  
VERSE  
They're happy you're confused  
They feed upon your fear  
Suck up all your feelings  
They're always very near  
You're one of the little pawns  
Putty in their hands  
Moving in formation  
As they whisper their commands  
BRIDGE  
Preaching the dualities  
Physical realities  
With-distorted-moralities-for-limited-mentalities  
Contorted tonalities  
Temporal modalities  
Separate nationalities  
For global criminalities  
CHORUS 
--- Send in a voice message: https://anchor.fm/podsongs/messa