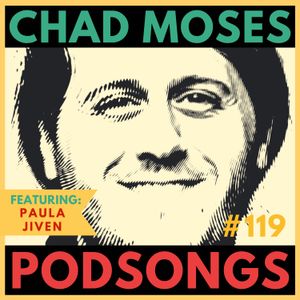 In this episode, Chad Moses of 'To Write Love on Her Arms'—the non-profit dedicated to presenting hope and finding help for people struggling with depression, addiction, self-injury, and suicide—talks to Swedish songwriter Paula Jiven to inspire a new song that will inspire those going through difficulties. 
Stream the song 'Don't forget how far you've come': https://ffm.to/dontforgethow 
TWLOHA exists to encourage, inform, inspire, and also to invest directly into treatment and recovery. Since its start in 2006, they have donated over $3 million directly into treatment and recovery making it possible for people to access mental health care when they need it the most. 
Each month, TWLOHA creates more than 11 million moments of hope through their online and social media presence for people in over 100 countries. And these moments lead to people taking the next step to find help as TWLOHA connects 3,000+ people monthly to mental health resources like crisis lines, support groups, and affordable local mental health resources through the FIND HELP Tool. 
On a mission to disrupt 
Swedish songwriter and artist Paula Jiven from Gothenburg made her debut appearance for the public at age 14 with her rendition of Michael Jackson's 'Billie Jean' on Sweden's Got Talent in 2018. A cover that gave her a Golden Buzzer and that subsequently went viral, amassing over 4 million views to date. She has since then developed her songwriting talent together with Wamer/Chappell and currently shares her management with the likes of Imagine Dragons, Clinton Kane, and The Killers (Reynolds Management in Las Vegas, US). Paula Jiven makes spellbindingly original pop music, each song sparked from her radiant imagination. 
At just 18-years-old, she's already cultivated a truly singular voice as an artist, one that defies all expectations in favour of following her most playful and daring instincts. With a self-described mission of "disrupting the comfortable and comforting the disrupted," Jiven is set to deliver a debut body of work revealing her supreme gifts as a storyteller and the tremendous power of her captivating voice. 
DON'T FORGET HOW FAR YOU'VE COME 
Say you're down 
And say your stuck 
Can't get out of bed 
Laugh it off 
But it's not a joke 
What's messing with your head 
You say it's hard 
To be living out 
In the way you wished you could 
But I know it's not 
How you think it is 
When you think you're really screwed 
You've got things 
you're convinced you need 
The things you've got to be 
I'll lend a hand 
And I'll lend my eyes 
I wanna help you heal 
Cause all we need 
Is all you are 
I want you to run free 
You were always beautiful 
And one day 
I hope you'll see 
Don't forget how far you've come 
And I'll - write the love upon your arms 
I'll lend my hand, I want to help you heal 
You're all we need, I want you to run free 
You're all we need, I want you to run free 
You're all we need, I want you to run free 
You're all we need, I want you to run free 
I want you to run 
For more information, please visit: www.twloha.com. 
Facebook: www.facebook.com/towriteloveonherarms 
Twitter: www.twitter.com/twloha 
Instagram: www.instagram.com/twloha 
Links: 
Paula Jiven - https://paulajiven.com/ 
Podsongs - https://podsongs.com/ 
Recorded at @Goldmine.Records 
--- Send in a voice message: https://anchor.fm/podsongs/message