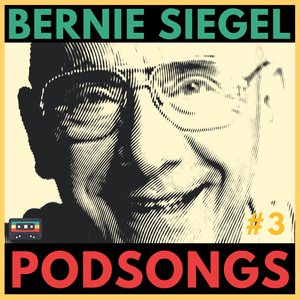 Dr. Bernie Siegel, who prefers to be called Bernie, not Dr. Siegel, was born in Brooklyn, NY. He attended Colgate University and Cornell University Medical College. He holds membership in two scholastic honor societies, Phi Beta Kappa and Alpha Omega Alpha and graduated with honors. His surgical training took place at Yale-New Haven Hospital, West Haven Veteran&rsquo's Hospital and the Children&rsquo's Hospital of Pittsburgh. He retired from practice as an assistant clinical professor of surgery at Yale of general and pediatric surgery in 1989 to speak to patients and their caregivers. 
Listen to the song I wrote after being inspired by my conversation with Bernie: Bobbie & Bernie and all the other Podsongs 
Lyrics to the song that was inspired by the interview:
BOBBIE AND BERNIE
Bpm: 93 
VERSE 
G                    Em 
I've come to a choice now  
C                        G 
On which road do I go 
Em                        C 
I'll follow the right fork  
D                          
By taking them both.  
They're the beginning of a circle  
That you cannot see.  
But all bring you home,  
like a river to the sea.  
CHORUS 
G 
Oh Bernie 
Em 
Did you hold on tight today? 
C 
Draw me a picture 
D 
Of the demons in your way 
Oh Bobbie 
I'm taking you out tonight 
Leave a sandwich on the back porch 
Tie a bow to the streetlight 
Em                                   C 
The Earth will be absorbed one day 
Em                   G 
Back into the sun 
Em                        C 
But Bobbie and Bernie 
D                    G 
Will remain as one 
VERSE 
When the cold weather's rising  
And the icy wind wakes 
Washing all before it frozen  
All the skies and lakes  
With her back to the wind  
and her voice to the clouds 
She found that her spirit  
Could soar above the ground 
CHORUS 
Oh Bernie 
Come up and see me some time 
I'm leaving notes for you everywhere 
A penny and a dime 
Oh Bobbie 
Yeah I heard you moving last night 
You've got to learn to keep it down 
I'm getting up early to write 
The end will come for everyone 
The goldfish and the young 
But Bobbie and Bernie 
Are here for everyone 
INSTRUMENTAL 
MIDDLE 
G 
Send me dimes 
Em 
Send me pennies 
C 
Many signs 
Em 
Through the lives 
You're still mine 
You've sent me many 
Where I go 
All the time 
BRIDGE 
The end will come for everyone 
The happy and the young 
But Bobbie and Bernie 
Are here for everyone 
VERSE 
Don't search for answers 
Don't ask me why 
Just tilt your head back 
And laugh at the sky