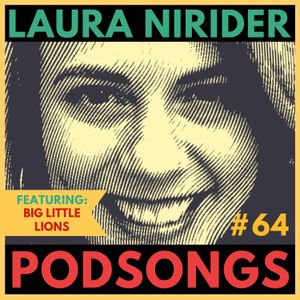 Laura Nirider is a lawyer and the co-director of the Center on Wrongful Convictions of Youth. Nirider represents individuals who were wrongfully convicted of crimes when they were children or teenagers and specialises in areas such as confessions and police interrogations. 
Her clients include Brendan Dassey, whose case was profiled in the Netflix Global series Making a Murderer, and Damien Echols of the West Memphis Three, whose case was profiled in the documentary West of Memphis. 
On her CV, Nirider says: "My responsibilities include representing wrongfully convicted youth, co-teaching a clinical course on wrongful convictions of youth, and directing the Center's mission and work. "Both my courtroom work and classroom work focus on police interrogations and confessions. 
"I maintain an ongoing caseload of post-conviction cases involving individuals who were convicted as children or adolescents. The majority of my clients' cases involve confessions."
FEATURED MUSICAL GUESTS: Big Little Lions are the award winning band from Cincinnati, OH and British Columbia, Canada. They were born out of a collaboration that won them a JUNO Award in 2014. Since then they have been cranking out infectious folk pop songs that are jam-packed with emotion and tight harmonies that sound like the product of two people working side-by-side instead of living in different countries.   They have released 5 albums to date, which have garnered them awards and nominations including the CFMA Ensemble of the Year. Their critically acclaimed music has appeared on the CBC's Top 20 and featured on shows like q and Vinyl Cafe. The duo consists of Paul Otten and Helen Austin, both hugely prolific songwriters - their music has been placed in hundreds of movie trailers, ads, network TV shows and on MTV. 
Their live show is quite the spectacle with Paul playing drums, bass and keyboard all while singing lead vocals. Helen, who is no slacker either, sings, plays guitar and foot percussion. They use every limb, and then some, to make two people sound like a full band. 
Their music has been dubbed 'a blissful marriage of new folk and sophisticated pop', and is packed with emotion and tight harmonies. https://www.biglittlelions.com/
Lyrics to the song that was inspired by the interview:
YOU KNOW THEY LIE
Don't say a word 
You know they lie 
The system is blurred 
And so we fight 
So don't say a word 
You know they lie 
They pulled it out of you 
A story with no truth 
over your head 
They get up in your face 
Tell you you'll be safe 
If you say what they said 
Don't say a word 
You know they lie 
The family get hurt 
And so we fight 
No shred of evidence 
Victim of circumstance 
Put you away 
How do they sleep at night 
Knowing it's not right 
They know that they made you say 
Don't say a word 
You know they lie 
Their power is earned 
And so we fight 
No alibi so they say what they like 
Confuse, distort and deceive 
See it's the law using their last straw 
Tell me who they gonna believe 
Don't say a  word 
You know they lie 
What have we learned 
You know they lie 
Just like a bad dream 
You know they lie 
Millions have seen 
You know they lie 
A life locked away 
You know they lie 
We hope and we pray