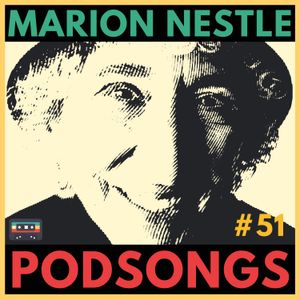 Marion Nestle (born 1936) is an American academic. She is the Paulette Goddard professor of nutrition, food studies, and public health at New York University. She is also a professor of Sociology at NYU and a visiting professor of nutritional sciences at Cornell University. Nestle received her BA from UC Berkeley, Phi Beta Kappa, after attending school there from 1954-1959. Her degrees include a Ph.D. in molecular biology and an M.P.H. in public health nutrition, both from the University of California, Berkeley.   
Lyrics to the song that was inspired by the interview: 
KILLING THE KIDS 
VERSE 
D                Bm 
Processed, preserved 
D                G 
Frozen and fried 
D              Bm 
Set in their ways 
D                   G 
Too long, to change 
Bm                                    D 
And the truth's too terrible to face 
Bm                       A                D 
They're killing the children with food 
VERSE 
Their bodies, engourged 
Their minds clogged up 
As their hearts grow weaker 
Assaulted every day 
It's an execution so crude 
They're killing the children with food 
MIDDLE 
Bm                                 D 
But it must be alright as it's offered 
G                                   A 
No one willingly do them harm? 
And the providers are but  a link in the chain 
And each feels free from blame 
Bm                                       D 
They say nothing can be proved 
Bm                       A                 D 
They're killing the children with food 
VERSE (INSTRUMENTAL) 
VERSE 
Mouthful by mouthful 
Plate by plate 
As God provides 
They abdicated their fate 
And they called the prophet rude 
They're killing the children with food 
They're killing the children with food 
They're killing the children with food