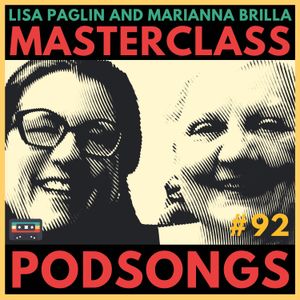 This is a special one-off episode where I've invited revolutionary singing teachers Lisa Paglin and Marianna Brilla back on the show (listen to Episode 58 first), to give advice to singers with vocal problems. 
Thank you to these talented artists who volunteered to have their vocal issues discussed on the show that more singers, suffering with the same problems, can listen and learn: 
Tiz McNamara is an Irish singer-songwriter based in Toronto, Canada. McNamara's independent releases have racked up more than 15 million streams on Spotify. His songs have featured on UK TV shows Hollyoaks and Emmerdale and have gained support from some of the industry's heavyweights, including BBC Radio 2, CBC and Amazing Radio. He's toured with BRITS Critics Choice winner James Bay, and was asked to sing alongside one of his musical heroes, Sir. Paul McCartney, as well as Robbie Williams and Shane McGowan under the The Justice Collective name. Tiz's latest offering 'Miami Night Sky EP' was signed to New York-based label, AntiFragile Music and has been receiving rave reviews. 
Stephen Scaccia is an award-winning 29 year old vocalist from Burnaby, British Columbia. He has performed for several fundraisers, Pride events and charities around the Lower Mainland, and was voted "Favourite Local Musician" alongside Michael Buble in the 2017 "Best of Burnaby" awards. Stephen has two pop EP releases under his belt, along with over 140,000 subscribers on YouTube. Stephen has gone on to perform with Michael Buble, and has received reactions and shout outs from Mariah Carey on YouTube. 
Nikita Afonso has made it her mission to create songs that provoke human emotion. She has taken her love of country music and made it her own, incorporating modern components and inspirations from her favourite artists, Lennon Stella and Sasha Sloan, to name a few. Like the world, Nikitas's artistry is continuously evolving, and yet, she maintains the quintessential elements of classic songwriting, moving listeners and putting music to emotions we have all felt and know. 
Elisabeth Kontomanou was born in Sète (France) in 1961. She moved to New York in the 1990s and then on to Stockholm where she was based when she recorded Back to My Groove. This album includes covers of songs which she sings in English. Kontomanou has worked with Michel Legrand, Mike Stern, John Scofield, Alain Jean-Marie, Jean-Michel Pilc, Daryl Hall, Franck Amsallem, Toots Thielemans, Richard Bona, Stéphane Belmondo, Jacques Schwarz-Bart, Leon Parker, and Geri Allen. 
Plus Courtney Hunt who has been a professional singer since 2018 as frontwoman of Canadian event band Appaloosa and on the roster of other international corporate bands. She began a solo career in 2020. 
Contact Lisa Paglin and Marianna Brilla via their website  or email assistant.newvoicestudio@gmail.com
LYRICS to the song:
UNCLENCH
Our bodies grow around the tension 
We take on its form 
Becoming whatever it is we imagine 
We're energetic creatures 
But deny our very nature 
As we focus on the mass that it creates 
Reach for a pill 
We're making ourselves ill 
Unclench 
Let it flow 
You are already perfect 
If you let yourself know 
Unclench 
Don't be the block 
The door will open for you 
All you have to do is knock 
Practicing techniques 
To bring the best out of ourselves 
But all the patches do is build a barrier 
Pressure in the jaw and body 
Build up over time 
Disconnecting us from ourselves 
Reach for a pill 
We're making ourselves ill 
Unclench 
Let it flow 
You are already perfect 
If you let yourself know 
Unclench 
Don't be the block 
The door will open for you 
All you have to do is knock 
Unclench 
Let it be 
Your voice is right there for you 
All you have to do is talk 
And just unclench 
Let it go 
Let it flow 
Become everything you ever want to be 
Do it all 
Or nothing at all 
It's all up to you