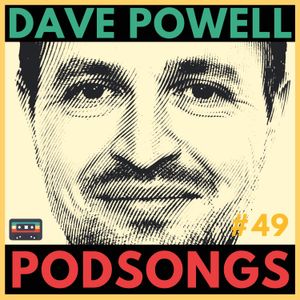 Dave Powell is one half of Sustainababble: a weekly podcast about the environment, for and by the confused. He's supposed to be an expert in how to save the planet. But why's everything got to be so confusing? Is he a little bit closer to enlightenment?   They sift through the most egregious eco-guff out there, exposing the real eco villains vs the hapless incompetents. It&rsquo's topical, funny, and hopefully more than a little cathartic. 
Lyrics to the song that was inspired by the interview:
THE SORROW OF GAIA 
A song inspired by James Lovelock's "The Revenge of Gaia". There must have been a time when CO2 levels reached the tipping point and Gea began her shift to the higher operating temperature described in the book. 
VERSE 1 
Em 
When the world changed 
Em 
A warm night in July 
G 
The factories were working overtime 
To meet the rising demand 
D 
An ever bigger fire 
Bm 
To feed the flames of man's desires 
VERSE 2 
When the world changed 
For her it was no surprise 
For too long they'd been burning 
The balance had been turning 
But the point at which they'd learn 
Was past the point of no return 
VERSE 3 
When the world changed 
She did it with a sigh 
For all that she'd created 
Would have to start again 
All because of them 
And the ambitions of men 
VERSE 4 
When the world changed 
She knew they'd take it on 
Not accept the changes 
And try to intervene 
Then only when they see the cost 
Would they realize what they'd lost 
VERSE 5 
When the world changed 
Forever in a day 
To bring the balance back 
And counter the attack 
She wondered if she should 
But it was for the greater good 
VERSE 6 
The night the world changed 
She didn't sleep at all 
She thought about the changes 
cos there could be no reverse 
But things were getting hot 
And man was never gonna stop 
OUTRO 
Am 
The night the world changed 
C 
Ahhhhhh 
Am 
The night the world changed 
C 
Ahhhhhh 
Am 
The night the world changed 
C 
Ahhhhhh 
JUST LYRICS: 
When the world changed 
A warm night in July 
The factories were working overtime 
To meet the rising demand 
An ever bigger fire 
To feed the flames of man's desires 
When the world changed 
For her it was no surprise 
For too long they'd been burning 
The balance had been turning 
But the point at which they'd learn 
Was past the point of no return 
When the world changed 
She did it with a sigh 
For all that she'd created 
Would have to start again 
All because of them 
And the ambitions of men 
When the world changed 
She knew they'd take it on 
Not accept the changes 
And try to intervene 
Then only when they see the cost 
Would they realize what they'd lost 
When the world changed 
Forever in a day 
To bring the balance back 
And counter the attack 
She wondered if she should 
But it was for the greater good 
The night the world changed 
She didn't sleep at all 
She thought about the changes 
cos there could be no reverse 
But things were getting hot 
And man was never gonna stop