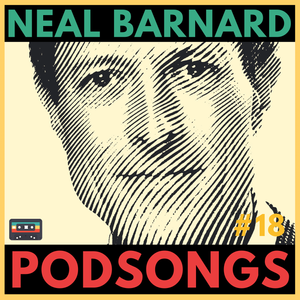 Neal D. Barnard is an American author, clinical researcher, and founding president of the Physicians Committee for Responsible Medicine (PCRM). Barnard founded Physicians Committee for Responsible Medicine (PCRM) in 1985 because he "wanted to promote preventive medicine." By 2016, the Washington D.C.-based PCRM had 150,000 members, including 12,000 physicians and reported revenues of more than $20 million. He appeared in the 2011 documentary feature film Forks Over Knives. 
Barnard serves as an Adjunct Associate Professor of Medicine at the George Washington University School of Medicine. He founded the Barnard Medical Center in 2015 as part of PCRM, and it opened in 2016 with him as president; the center provides primary care and emphasizes diet and preventive medicine. 
Listen to the song I wrote after being inspired by my conversation with Neal called 'You Are Responsible' and all the other Podsongs 
Lyrics to the song that was inspired by the interview:
YOU ARE RESPONSIBLE
VERSE 
Fm 
Could you shoot a cow? 
Cm 
Stab a goat? 
Bfm 
Hold a little sheep 
Fm 
And slit its throat 
Would you feed a pig a diet that includes 
Euthanised pets 
Which have been dried and ground and sold as 
"Protein concentrates"? 
Then slaughter it 
And eat its guts 
Then grind up whatever's left 
for growing piglets? 
CHORUS 
This is you 
I'm afraid it's true 
Cos the men who do 
They work for you 
VERSE 
Could you inseminate a cow? 
In a very very painful way 
Then 9 months later come back and 
Take its baby away 
Then drag that calf down  
Into your basement 
And never ever let it 
See light again 
Chain it up  
So it can't sit down 
Give it a diet of liquid food 
So it lives with diarrhoea 
CHORUS 
This is you 
I'm afraid it's true 
Cos the men who do 
They work for you 
MIDDLE 
Fm 
You are responsible 
Bfm 
You are responsible 
Fm 
You are responsible 
Cm 
INSTRUMENTAL 
VERSE 
Would you feed your children hormones 
In the interests of economics 
Or give them health complications 
From a diet of animal antibiotics 
Or have them absorb the emotions 
Of an animal that lived in torture 
And thoughts from the mind of the man 
Who shot it through the head 
CHORUS 
But you do 
I'm afraid it's true 
If only they knew 
The things they chew 
This is you 
It's all you 
If only you knew 
Well now you do