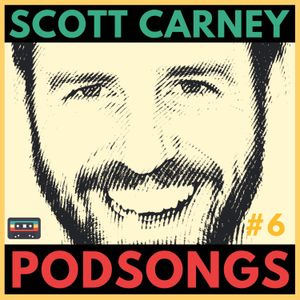 This is a reissue of Episode 6, while Jack takes a short break for the birth of his first child. Scott Carney is an investigative journalist and anthropologist and has worked in some of the most dangerous and unlikely corners of the world. His work blends narrative non-fiction with ethnography. He inspires a song called True Believer, about the life philosophy he has built based on his work and travels. 
His books include What Doesn't Kill Us was a New York Times bestseller; other works include The Red Market and A Death on Diamond Mountain. Carney was a contributing editor at Wired for five years and his writing also appears in Mother Jones, Men's Journal, Playboy, Foreign Policy, Discover, Outside, and Fast Company. His work has been the subject of a variety of radio and television programs, including on NPR and National Geographic TV. In 2010, he won the Payne Award for Ethics in Journalism for his story " Meet the Parents," which tracked an international kidnapping-to-adoption ring. Carney has spent extensive time in South Asia and speaks Hindi. He attended Kenyon College and has a master's degree in anthropology from the University of Wisconsin-Madison. He currently lives in Denver, CO 
Stream the song: https://ffm.to/scottcarney 
Watch the music video: https://youtu.be/Qc1Lo4uAaTA 
TRUE BELIEVER 
There's a wedge, we drive  
For our minds, to thrive  
We wither in this world  
Or we evolve 
What is truth? What's belief?  
What is hiding underneath?  
In the lie-infested world in which we crawl 
You call me faithless - but my faith's unshakeable  
In fact, I'm one of only a few believers left 
From what I've seen with my own eyes  
A lie is always in disguise  
My faith's built on solid base  
I trust in what I touch or taste 
I've been convinced by black and white  
That today will end in night  
The song is long while will is free  
Life ends in a minor key 
You call me faithless but I've no doubt  
I'm a true believer - believe me!  
I've faith men cheat, Faith men lie  
Faith they steal, one day die  
I'm a believer!  
A true believer 
I've faith they'll kill to make a million  
Sell their bodies, sell their children  
I'm a believer!  
A true believer 
  
Lies are always told  
As lives are, bought and sold  
Our belief is the currency that we traded away 
--- Send in a voice message: https://anchor.fm/podsongs/message