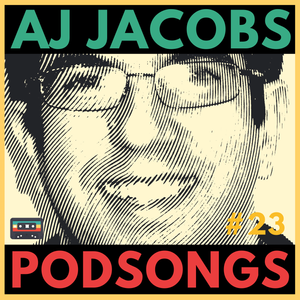 A. J. Jacobs is an American journalist, author, and lecturer best known for writing about his lifestyle experiments. He is an editor at large for Esquire and has worked for the Antioch Daily Ledger and Entertainment Weekly. AJ has said that he sees his life as a series of experiments in which he immerses himself in a project or lifestyle, for better or worse, then writes about what he learned. 
Listen to the song I wrote after being inspired by my conversation with AJ and Julie and all the other Podsongs 
Lyrics to the song that was inspired by the interview:
SAINT JULIE ( AJ'S WIFE)
CAPO 4th 
VERSE 
C 
AJ being honest 
F               C 
AJ listing facts 
C                                                 G 
AJ entertaining us with all his crazy acts 
AJ connecting relatives 
AJ saying thanks 
AJ outsourcing all his worries, even arguments 
BRIDGE 
F                                   Am 
We all love reading 'bout AJ's life 
      F             G                    C 
And that very saintly lady AJ's wife? 
VERSE 
AJ joining Mensa 
And taking the bible literally 
AJ stoning adulterers in Central Park for all to see 
AJ unitasking 
AJ peeing in the sink 
AJ staying in the moment by saying everything he thinks 
BRIDGE 
It'd be fun to have AJ in our life 
But spare a thought for poor old AJ's wife 
CHORUS 
C 
Saint Julie 
G 
Must love him truly 
F 
She's living a movie 
G 
The kind you watch slowly 
Saint Julie 
Came down from on high 
To take pity on that dorky guy 
On the 28th floor 
INSTRUMENTAL (CHORUS) 
VERSE (Strummed) 
AJ and Julie riding in Gondolas having romantic times 
AJ and Julie holding hands watching Waking Ned Divine 
BRIDGE 
We'd kill for dinner with AJ and wife 
So we can hear her side of their crazy life