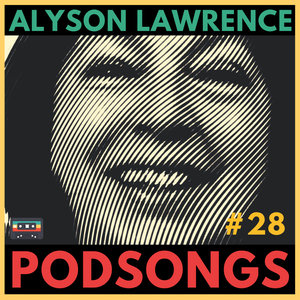 Alyson Lawrence is a Bishop in The Aetherius Churches and an International Director of The Aetherius Society at the European Headquarters in London. She was a devoted follower of Dr. George King during his lifetime and has lectured in several countries and written articles on many and varied metaphysical topics. Alyson is also an experienced teacher and trainer in dynamic prayer. 
Lyrics to the song that was inspired by the interview: 
 MOST CATERPILLARS DON'T BELEIVE IN BUTTERFLIES
CHORUS  
B                                      E  
Most caterpillars don't believe in butterflies  
B                                    E  
You make a chrysalis, then you die  
                    F#           E  
Despite the butterfly sightings  
VERSE  
Butterflies in the sky      
Tricks of the light or cloud formations  
Flocks of birds or you expectations  
Who knows? Who can say?  
Don't look they'll go away  
Caterpillars are apathetic  
They're focused on their leaf  
"Don't borrow me with spiritual things  
         F#                               F#  
I'm living in the hear and now"  
CHORUS  
VERSE  
The Nine Freedoms explains it all  
How Bravery, Love and Service   
Lead to enlightenment and cosmic consciousness   
Then ascension and interplanetary existence  
Before we get to Saturn and then life on the sun  
Many more things are mentioned  
It's a lot to take in  
And when talking to caterpillars  
         F#                              F#  
It's hard to know where to begin...  
MIDDLE  
E                     F#                         B          E  
The caterpillar government's not helping things  
E                             F#  
I guess they have their reasons  
E                         F#                 B          E  
But I know one day that everyone will see  
B          E  
Inevitably  
F#                                                  B  
That becoming butterflies is our destiny  
But until then...  
CHORUS