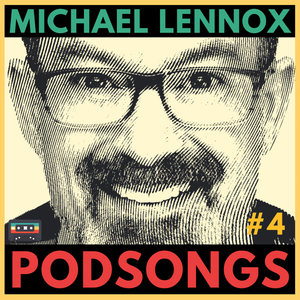 Dr. Michael  Lennox obtained his Masters and Doctorate in Psychology from The Chicago School and his Doctoral Dissertation, Astrology, and Personality, is published by Lambert Academic Publishing. Dr. Lennox is also the author of two books on dreams, Dream Sight: A Dictionary & Guide for Interpreting Any Dream and Llewellyn&rsquo's Complete Dream Dictionary. Dr. Lennox leads workshops and retreats all over the United States and conducts a worldwide private practice based in Southern California. 
Highly sought-after media expert, Dr. Lennox has been seen internationally on many television shows, beginning with the Sci-Fi Network&rsquo's The Dream Team and has also been featured on numerous network and cable television venues including NBC&rsquo's Emmy award-winning Starting Over, Soap Talk, The Wayne Brady show and many others. His radio appearances talking about the power of dreams number in the hundreds.  
Listen to the song I wrote after being inspired by my conversation with Michael called 'Brighter' and all the other Podsongs 
Lyrics to the song that was inspired by the interview:
BRIGHTER
Bpm 120 
CHORUS (INSTRUMENTAL) 
VERSE 
C 
You've told him of a childhood 
F  
That no one would aspire to 
C                                                 G 
He says - "look at the strength it's given you" 
Tales of misfortune 
Catalogue of doom and gloom 
Michael just smiles at you 
BRIDGE 
F 
You're having the nightmares 
G 
You're writing them down 
Em                                  Am 
But all you can see is the storm 
Am 
But the best plays are the tragedies 
Em 
We get shown what we need to see 
G 
The moral is morality 
F                        Am 
You make your own reality 
F                                    
But I'm afraid 
G 
With your frame of mind 
CHORUS 
(It's only gonna get) Darker 
And darker 
And darker 
Darker than you remember 
Wait until November 
Mercury's in retro 
Chaos from the get-go 
Live it up - you reap what you sow 
Neptune's in alignment 
Saturn's feeling violent 
Pluto's gonna tear you to shreds 
La la la la la la 
VERSE 
Your scars clearly show 
The world's been unfair to you 
But only if you let it define you 
If every experience 
Gives you strength and resilience 
Use it to help others in need 
BRIDGE 
You're having the nightmares 
You're writing them down 
But all you can see is the storm 
And when you moan and when you curse 
You write your play with every verse 
The truth is cold may seem perverse 
But burn it up live in reverse 
Otherwise 
I'm afraid 
CHORUS 
(It's only gonna get) Darker 
And darker 
And darker 
And darker 
Darker than you remember 
Wait until November 
Mercury's in retro 
Chaos from the get-go 
Live it up - you reap what you sow 
Neptune's in alignment 
Saturn's feeling violent 
Pluto's gonna tear you to shreds 
La la la la la la 
CHORUS 
Get over what your parents said 
The voices inside your head 
Only speak to people in the room 
You'll get happiness you'll get health 
If you're not focused on yourself 
Just change your state of mind 
And it'll get brighter 
And brighter 
And brighter 
And brighter 
Brighter if you're willing to serve 
The crazier the world becomes 
Suffering in everyone 
The more chances to serve 
Your world will get brighter 
And brighter 
And brighter 
And brighter 
Brighter if you're willing to serve