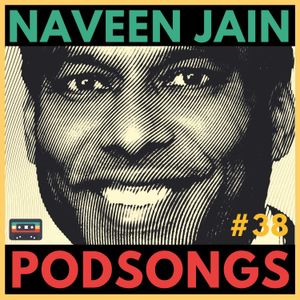 Naveen Jain is an entrepreneur and philanthropist driven to solve the world's biggest challenges through innovation. A man who knows no limits, Naveen pushes big dreams into action, spurring massive cultural and technological change. His audacious vision and magnetic personality continually inspire others to follow what feels impossible. The founder of Moon Express, World Innovation Institute, Rome, TalentWise, Intelius, and Infospace, Naveen sees beyond the current business and technological landscape, creating companies that make a true impact. Ernst and Young's Entrepreneur of the Year, Silicon India's " Most Admired Serial Entrepreneur," and the receiver of " Albert Einstein Technology Medal" for his pioneers in technology, he has been repeatedly honored for his entrepreneurial successes. Red Herring also recognized him as one of the " Top 20 Serial Entrepreneurs" and with the " Lifetime Achievement Award." Naveen Jain's next endeavor is to travel to the moon, using lunar resources for innovation here on earth. Whether it's business or life, Naveen is guided by one firm belief – Our only limit is our imagination.  
Lyrics to the song that was inspired by the interview:
CLEAN AND REGULAR 
Capo 2nd - chords are for the shape. Transpose up 2.  
It's in the key of A 
VERSE CHORDS: A F#m 
BRIDGE CHORDS:  
D E 
A G# Fm 
D E 
CHORUS CHORDS: A F#m D E 
VERSE 
G            Em 
She feels all messed up inside 
G               Em 
It's the pressure she can't hide 
BRIDGE 
C         D 
Wants to go badly 
G    D#    Em 
But just can't work it out 
C                                               D 
I'll win her heart when I help her out 
CHORUS 
G Em C D 
To be clean and regular, is her ambition in life 
If she was clean and regular, it would all be alright 
VERSE 
Something's wrong, deep down 
She's not a pleasure to be around 
BRIDGE 
Not feeling so well 
And as far as she can tell 
Her backlogs getting big 
CHORUS 
To be clean and regular, is her ambition in life 
If she was clean and regular, it would all be alright 
I'll take her, fresh fruit in the morning, Triphala at night 
I'll make her, clean and regular, she'll love me alright 
MIDDLE 
Em 
The thoughts she can't explain 
G 
Lie inside her second brain 
BRIDGE 
C         D 
Her messy microbiome 
G    D#    Em 
Needs analysis 
C                                   D 
We will get to the bottom of this 
CHORUS (CHORUS) 
BRIDGE 
She gets a little pent-up 
When things don't go with the flow 
Having troubles, down below 
CHORUS 
To be clean and regular, is her ambition in life 
If she was clean and regular, it would all be alright 
I'll take her, fresh fruit in the morning, Triphala at night 
I'll make her, clean and regular, it will be alright