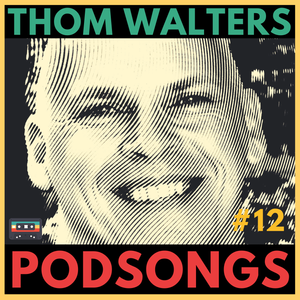 As a meditation teacher and host of the global ZEN commuter Meditation Podcast Thom has taught meditation to thousands of people wanting to live a calmer, fuller life. He began a meditation practice back in 1980, when he was eighteen years old, and considers it to be the most impactful skill learned in his life. " Through the years, and up to now, I have kept my meditation practice alive, practicing over 5,000 hours. In between those times, I have interviewed noted meditation thought leaders on my podcast, ZEN commuter, and studied extensively on a variety of meditation practices. I have devoted my life to helping people becoming calmer and more purposeful through mindfulness practice." Support Thom on Patreon 
Listen to the song I wrote after being inspired by my conversation with Thom called Master of Mind and all the other Podsongs. 
Lyrics to the song that was inspired by the interview:
ARE YOU THE MASTER OF YOUR MIND? 
(CAPO 1st) 
VERSE 
G 
You can build your body and hone yourself an incredible physique 
Perform fantastic physical feats that must be seen to be believed 
BRIDGE 
C                                              G 
But can you breathe and only breathe 
C                                              G 
Yes can you breathe and only breathe 
VERSE 
Or buy an education that's the envy of all 
Become an economic mastermind know the workings of the world 
BRIDGE 
CHORUS 
Em                                         G 
What good is such a powerful force 
Em                                                           G 
If you can't still your mind and hold it on a course 
C                           D 
Are you the master of your mind? 
VERSE 
You could study the languages learn Sanskrit and Greek 
Understand the ancient texts and find long-forgotten techniques 
BRIDGE + CHORUS 
VERSE 
Or become a leader of the military with power over men 
Put a country to the sword or show mercy upon them 
BRIDGE + CHORUS 
INSTRUMENTAL 
VERSE 
Or use your life as a politician and be an honest one at that 
Make the world a better place or at least a part of it